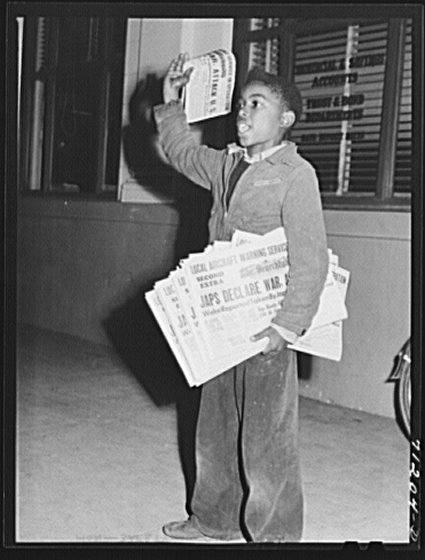 Emerging America has two teacher-assembled sets of primary sources that offer rich detail and related classroom activities to engage student inquiry about Japan's attack on Pearl Harbor in Hawaii on December 7 and the events that followed. Library of Congress video interviews with eyewitnesses, photographs (including photos by Ansel Adams), maps, blueprints, and other documents provide many means to help students find connections to events.
Japan's Attack on Pearl Harbor is introduced by a detailed timeline of the events of the attack, an activity in which students take the role of reporters, and a Documents Based Question (DBQ). The sources include video interviews with veteran and nurse eyewitnesses with thumbnails summaries, the news broadcast type script, maps, blueprints, photos, and other documentation.
Japanese Internment: U.S. Reacts to Attack on Pearl Harbor focuses on the experiences and reactions of Americans after the attack. The primary sources include images of Japanese-Americans being moved, the signing of Executive Order No. 9066, and "evacuation sales" held by evacuees, interviews recorded with citizens days after Pearl Harbor that include their perceptions of Japan and of Japanese citizens, and Ansel Adams' book Free and Equal, which the Library of Congress has made available online as part of a feature on Ansel Adams work documenting the Japanese internment camp at Manzanar, California.