Emerging America professional development programs feature:
In-depth content from top scholars,
Useful guidance from veteran K-12 teachers,
Strong and successful alignment with state content and Common Core literacy standards in history, and
A focus on inquiry-based use of primary sources in the classroom.
Based on the Collaborative's 35 years of leadership in overcoming barriers for ALL learners, we particularly emphasize strategies to support learners with a diversity of needs.
Learn more about each of our programs through the links below.
Find currently scheduled workshops on the Collaborative's Emerging America Upcoming Programs page.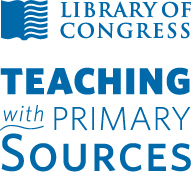 Teaching with Primary Sources Program of the Collaborative for Educational Services
Teaching with Primary Sources (TPS) at the Collaborative provides a range of workshops and online resources to support effective inquiry-based use of primary sources, featuring (of course) the vast collections of the Library of Congress. All of the Collaborative's TPS workshops are free, thanks to funding from the Library of Congress.
Institute for Arts Integration
A rich, powerfully engaging, research-based program program designed to train teachers in the pedagogy of arts integration into academic content. With top program leaders Priscilla Kane-Hellweg, Enchanted Circle Theater, and Sanford Roth, Collaborative for Educational Services. Thanks to a grant from the National Endowment for the Arts and other partners, registration (normally $1,450) is just $250. Co-sponsored by the Holyoke, Northampton, and Springfield Public School Districts. Open to all teachers K-8.

Teaching in Alternative Settings – Online Courses at Emerging America
Online content courses in history for teachers of school-aged youth in juvenile justice facilities, mental health facilities, alternative schools, occupational centers, and similar settings. Learn topical content and strategies for successful teaching of diverse learners in alternative settings.

Teaching American History
Since 2006 the Emerging America: Teaching American History program has allowed hundreds of Western Massachusetts educators to explore a rich menu of topics with fellow teachers and scholars. Teachers analyze primary sources and delve into local archives. Programs include: Summer Colloquia held at Smith College; annual spring course on Berkshire County history; evening history lectures with dinner at UMass; in-school coaching of elementary teachers in Holyoke; and online courses for teachers statewide in Department of Youth Services institutions.
All TAH workshops are free thanks to a Teaching American History grant from the U.S. Department of Education.
Collaborative for Educational Services
Explore our agency's other extensive offerings, from licensure courses to Professional Learning Communities, from topical speakers to onsite consulting. Professional Development Department.


Registering for Emerging America programs:
Register online through the Collaborative's Emerging America Upcoming Programs page.
Or fill out and mail/fax back the appropriate program flyer. Download PDFs of brochures from that same Emerging America Upcoming Programs page.
Some programs require a deposit check to assure a spot. We return the check to you when you complete the program.
Mailing Address:
Emerging America
Collaborative for Educational Services
97 Hawley Street
Northampton, MA 01060
Fax: 413 586-2878
Registering for Graduate Credit:
Participants must pay if they wish to register course credit with Fitchburg State University (or other partner). Credit registration form and fee is due the first day of class.
Past Programs
Visit our archive of past workshops and scholarly presentations.