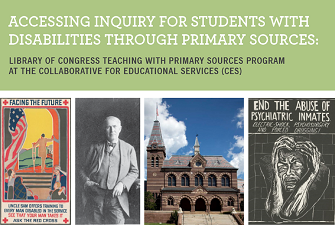 Tue, 03/03/2020
Social Studies and Humanities pose distinct challenges for struggling learners. Extensive discipline-specific vocabulary, difficult informational texts –including complex primary sources– and a need for background knowledge can be barriers. Yet the authentic sources, important ideas and connections to issues of these subjects also offer virtual tools for differentiation and potent means to motivate students.
This exciting graduate course supports content instruction for Students with Disabilities in History-Social Studies and Humanities (including literature, art, music, and language); and for Special Education teachers. 
Grounded in a decade of practice by history educators, historians, and experts in Special Education, and based on current research and innovative classroom practices this course features models of best practices and employs primary sources and analysis tools.
Participants will:
Gain and apply practical classroom strategies.
Integrate History of Disability through issues of Citizenship, private and government responsibility to provide services, and struggles for empowerment.
Create/adapt lessons: Universal Design for Learning and brain-based language learning. 
Audience
Teachers in Social Studies or Humanities; Grades 4-12.
Invite a partner! We encourage - but do not require - participation of teams, such as a Special Education teacher and a History/American Literature teacher, members of a department, or interdisciplinary teams.
Dates and Locations
Face-to-Face, Northampton: March 3 and 31, 2020, 8:30am - 3:30pm, Collaborative for Educational Services (Register by Feb 25)
Fully Online: Course runs July 6 through July 31, 2020. Required online session on July 8, 2020 from 7:00pm - 8:00pm (Cost: $80; Register by June 26)
Credits
22.5 PDPs will be awarded to participants upon completion of these two days of training, in addition to outside reading and assignments (as per DESE regulations). Note that these PDPs will satisfy the ELL- or Special Education-related requirement for recertification. 
Participants may choose instead to take this course for 1 graduate credit in partnership with Westfield State University. Graduate Credit from Westfield State University costs $125. Registration for Graduate Credit takes place in the first class, with payment accepted by credit card or check.
Cost: $72.50