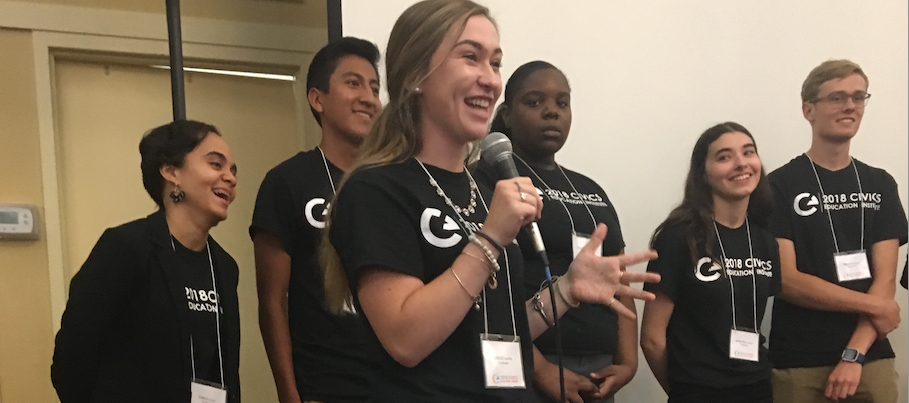 Support Students with Disabilities in Civics
Reform to Equal Rights: K-12 Disability History Curriculum features lessons to support inclusive civic engagement projects in grades 6-8 & grades 9-12. Includes information on civics projects for disability rights.  
Emerging America strives to ensure that every student has support to participate in civics education including civics projects in the community. 
Civic engagement and service-learning engage diverse learners in authentic work that motivates because it matters in the world. Emerging America founder, Rich Cairn, has been a national leader in community-based learning since the 1980s. 
Unfortunately, students with disabilities are too often deprived of civics education. (See Emerging America blog posts by Rich Cairn and by Leah Bueso.) Civics programs are finally beginning to turn attention to inclusion of students with disabilities. 
Emerging America offers many resources through the Accessing Inquiry digital clearinghouse that support inclusive instruction in civics and history. The page below features exciting resources focused especially on inclusion in civic education. Contact us about workshops and courses.
Civic Engagement in Massachusetts: Resource for the Nation
Mass DESE released an INCLUSIVE VERSION of the Civics Project Guidebook! This is the most effective and useful support for civics projects available. 
Massachusetts civics legislation in 2018 strengthened K-12 civics, requiring that every learner have opportunities for student led civic engagement projects in grade 8 and in high school. Also in 2018, the Massachusetts Board of Education passed a History and Social Science Framework that focuses on civics and inquiry. Emerging America has served as an advocate for Students with Disabilities throughout this effort. 
Tools for Inclusive Civic Engagement 
"You don't have to carry a sign to support others in the movement. You can bake cookies for the meeting and that's very important."  - Interview with Crip Camp Documentary Filmmaker Jim LeBrecht 
Join the #TeachDisabilityHistory campaign! Led by youth and young adults from Easterseals Massachusetts. Link to the campaign. 
Disability History & Civics Extension to the EAD Roadmap
Emerging America is a proud sponsor of the 2021 Educating for American Democracy Roadmap. This vital framework raises the profile of history and civics education across grades and advances the central role of inquiry.  
With the Learning Disabilities Association of America, Emerging America helped draft an Educating for American Democracy Roadmap Disability History and Civics Extension. This document presents a framework and penetrating questions to guide both the inclusion of students with disabilities in civics and of a narrative of people with disabilities across American history and civic life. In February, 2023, Emerging America will release Reform to Equal Rights, a K-12 Disability History Curriculum to support both these goals. 
View the recording of a joint webinar, "Creating an Inclusive Civic and History Education for All: Educating for American Democracy," from March 25, 2021, including Louisiana teacher Kim Eckert. 
Other Essential Civics Resources:
Massachusetts Department of Elementary and Secondary Education (DESE) History & Social Science instruction resources page. It includes the: 
Harvard University's Democratic Knowledge Project offers an alternative step-by-step workbook for Student-led Civics Projects. 
The Massachusetts Civic Learning Coalition united to pass the 2018 civic engagement law.
Emerging America's Windows on History Local History program offers opportunities to pursue civic engagement when students research issues of historic and contemporary interest in their own community. 
Search the EmergingAmerica.org library of Teaching Resources for accessible civics lessons and classroom activities.
Find discussions on Civic Engagement policy, programs, and teaching supports in our EmergingAmerica.org blog. 
Sign up for our monthly History eNews for updates. Use "Contact Us" button on this page. 
---
Library of Congress TPS Civics Apps
Many of Emerging America's colleagues in the Library of Congress Teaching with Primary Sources (TPS) Consortium have developed exciting apps and curriculum on civics education. Find additional apps from the Library of Congress TPS program at these links: