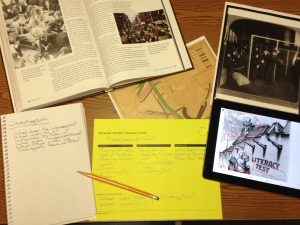 Emerging America built this digital resource to provide ongoing support for K-12 teachers of history, social studies, and humanities to challenge and nurture struggling learners. Resources for teachers and students to increase accessibility in the classroom are being added to this page regularly. Please share with us additional resources that you find helpful, and be sure to check our current course offerings.
RESOURCES & ASSISTIVE TECHNOLOGY
Assistive technology is a general term used to describe technology tools that are used to help people with disabilities accomplish tasks.  The most common used forms of assistive technology are speech input software, screen readers, and screen magnifiers. History and Social Science teachers working with primary documents should be aware of a variety of tools that allow all students to access the content and engage in learning.  
On this page you will find assistive tech tools and strategies that will enable students with disabilities to access the curriculum.  Many of the tools featured are provided through the Library of Congress (loc.gov) and can be used when students are accessing primary documents directly from the site.  
You will also find resources that will provide you with background information and resources that fall outside the categories covered by the other pages on the Accessing Inquiry project.
Tools on the Library of Congress website 
Screen Magnification – High resolution images on the Library of Congress site allow all students to zoom in on the details of a visual.  Students are often looking for clues to solve a historical puzzle. The magnification tool allows students to see all parts of a primary document with incredible detail.  Students with vision problems will benefit from this tool as well.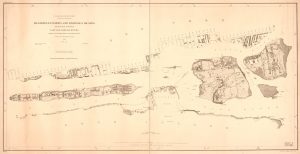 https://www.loc.gov/item/gm70000123/
In this example, students can take an up close tour of Blackwell, Ward, and Randall Islands using the magnification tool.  
Model Lesson:  Try using the magnification available with a variety of documents with our sample lesson, Nellie Bly 1887: Exposing Treatment of Those with Mental Illness
ZoomText Screen Magnification– The Library of Congress has digitized many different types of text documents.  Students sometimes have difficulty reading the text of densely printed books and articles. ZoomText allows students to zoom in closely on particular passages and also display plain text by clicking "show text."  These options make it easier for students to access the material.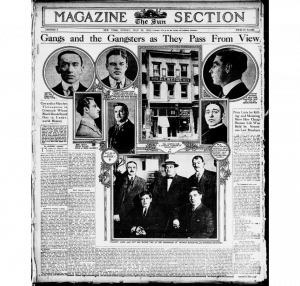 https://chroniclingamerica.loc.gov/lccn/sn83030431/1919-07-20/ed-1/seq-…
In this example, students are able to zoom in on picture captions and particular selections from the article.  
Model Lesson:  See this tool used with a variety of documents with our sample lesson, Reformers and Gangsters in American History from Antebellum to Prohibition.
Voice Output:  Using ReadSpeaker, the Library of Congress provides text-to-speech overviews of primary source sets.  
In this example, the Born in Slavery: Slave Narratives from the Federal Writers' Project, 1936 to 1938 features a text-to-speech overview for those with disabilities.  
Model Lesson:  See this tool used with our primary source set, Slavery and Anti-Slavery: Social, Political, and Religious Change (1800-1860)

National Library Service for the Blind and Physically Handicapped: NLS at the Library of Congress offers Braille and audio reading materials for magazines as well as for books and music resources. Read about how the Braille Officer of the Library of Congress makes use of the collection herself, and information she wants to share with teachers, in her August 2018 post.
Resources on Student Mental Health
According to the U.S. Center for Disease Control and Prevention, as many as one in five children between the ages of 3 and 17 have a diagnosable mental, emotional or behavioral disorder. For information about what the terminology of mental health diagnoses mean, and suggestions for how to support students with various conditions in the classroom, see the Children's Mental Health Classroom Fact Sheet (2014).
Making mental health a topic of open and non-stigmatized discussion benefits all students, not just students who are identified as students with disabilities. A 2019 Teaching Tolerance article, Demystifying the Mind, describes instances in which schools have integrated mental health literacy into the curriculum.