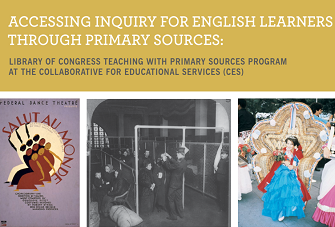 Wed, 11/06/2019
The Library of Congress Teaching with Primary Sources (TPS) Program at the Collaborative for Educational Services is making accessible to all learners - including English Learners - the best of inquiry-based instruction in social studies and humanities, using primary sources. Audrey Morse, CES Curriculum and Instruction Specialist, together with Emerging America Director Rich Cairn, will guide teachers through effective strategies to support all learners. The course arose from a decade of work by history and humanities educators, historians, experts in teaching English Learners, and on research and classroom practices that support ALL learners
This course will feature exemplars of best practice based on the history of immigration and of foreign language communities in the U.S., using primary sources and analysis tools.
Audience
Teachers in History, Social Studies, English Language Arts and the Humanities as well as Teachers of English as a Second Language. Also Librarians, Special Education Teachers, and other Specialists; Grades 4-12.
Credits
22.5 PDPs will be awarded to participants upon completion of these two days of training, in addition to outside reading and assignments (as per DESE regulations). Note that these PDPs will satisfy the ELL or Special Education-related requirement for recertification. 
Participants may choose instead to take this course for 1 graduate credit in partnership with Westfield State University. To earn PDPs or Graduate Credit, participants must complete all assignments by the last class, details of which will be provided in the class syllabus. Graduate Credit from Westfield State University costs $125. Registration for Graduate Credit takes place in the first class, with payment accepted by credit card or check.
Date and Location
Face-to-Face, South Hadley: November 6 and 13, 2019, 8:30am - 3:30 pm, South Hadley Public Library
Cost: $72.50. Lunch will be provided. Training cost is reduced thanks to the support from the Library of Congress Teaching with Primary Sources program. 
Registration Deadline: October 30