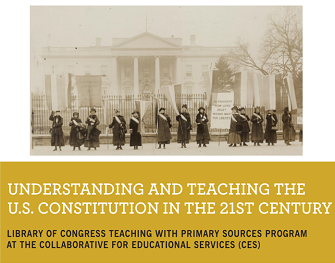 Fri, 09/20/2019
How well has the U.S. Constitution protected the individual rights of all Americans? Who has been left out and why? How has Constitutional protection evolved?
In this fully online training, participants will:
Investigate questions of justice and equality from the origins of the constitution to the present.
Work in groups to investigate a wealth of primary sources - featuring images, maps, oral histories, and documents from the Library of Congress - to develop powerful inquiry-based lessons to bring this crucial document to life. 
Draft, teach, and reflect with fellow teachers on what works and how to strengthen the lesson. 
Audience and Grade Level
Teachers; Grades 5-12
Credits
67.5 PDPs will be awarded to participants upon completion of this training.
Date and Location
This training is fully online and will take place from September 20, 2019 through December 15, 2019.
There are two scheduled online sessions participants are required to virtually attend: 
October 17, 2019, 7:00pm - 8:30pm
November 14, 2019, 7:00pm - 8:30pm
Cost: $72.50
Registration Deadline: September 9