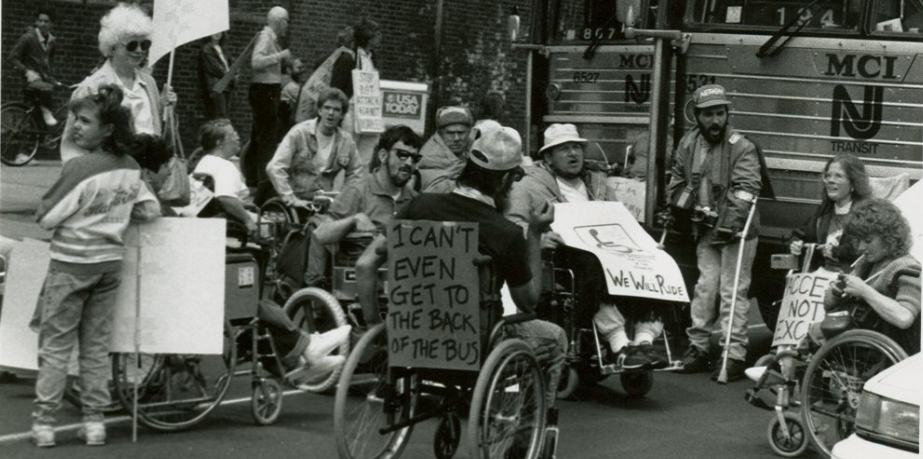 Grades 6-8 Unit Overview: Disability, Civic Engagement, and Government
The Unit Overview features a grid of Universal Design for Learning (UDL) strategies and tools employed, standards, and a list of nearly 30 primary sources used in the unit with thumbnails for each. (Lists of primary sources in lesson plans include hyperlinks to sources as readable text. Lesson plans detail the UDL strategies and tools that they use.) The Unit Overview also lists all secondary sources and background materials for teachers used in the unit. 
This unit works particularly well in a course on civics and government. The intro lesson introduces key information and can be useful to check student knowledge and experiences. Lesson 1 is essential to introduce the unit's study of disability. Lessons 2 & 3 delves into work for disability rights, including transformative legislation. In lesson 4, students apply what they have learned about civic action to research, plan, and carry out their own civic engagement project. (This lesson is also used for Grades 9-12.) Lesson 5 can stand alone or fit within the unit; it adds disability rights as an option for study of historic Supreme Court cases. Link to Grades 6-8 Unit Overview. 
Grades 6-12 - Intro Lesson: Introduction to Disability History
Introductory lesson slides call students to use words about disability with respect. The slides also include a definition of disability and feature pictures from the Library of Congress that show tools for access. Students generate questions. 
Grades 6-8 - Lesson 1: What Are Disability Rights? 
Students consider disability and discuss disability rights through analysis of images of disability rights leaders. Students discuss how the class and broader society can be inclusive. Students commit to use words about disability with respect. 
Grades 6-8 - Lesson 2: Disability Rights Activism
Students use the Question Formulation Technique to generate questions about disability rights. Two case study handouts aid study of citizen participation by disability rights activists Lois Curtis and Ed Roberts. Students use a RAFT process to make an argument about disability rights. 
Grades 6-8 - Lesson 3: Disability Rights Legislation
Students study the Disability Rights Movement through primary sources posted in a carousel activity and through analysis of secondary sources on the 1990 ADA and IDEA federal legislation. 
Grades 6-8 - Lesson 4: Inclusive Civics Project - Disability Rights  
Lesson 4 offers an extensive–and optional process to guide research, planning, and organizing civic engagement projects that are genuinely inclusive. The lesson also offers resources to work on disability rights projects. 
Grades 6-8 - Lesson 5: Supreme Court Case: Olmstead v. L.C. 
In lesson 5, students analyze and report on a 1999 landmark disability-related decision of the U.S. Supreme Court. Other students would research and report on other landmark decisions. Students study the story of plaintiff Lois Curtis (L.C.), beginning in lesson 2.