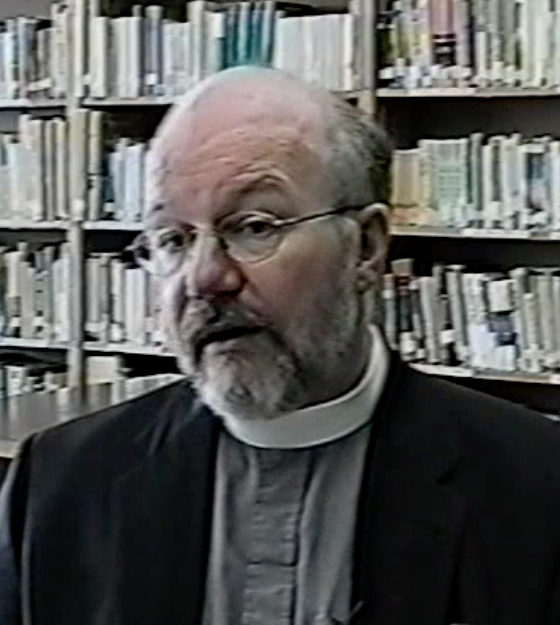 "I've done… three things… about healing over the years. One… is to… talk about what happened to me. The vast majority of Vietnam vets never talk about their experiences… I found great healing in being able to talk about it… "
- James Granger Munroe. Recorded 11/20/2002 for the Veterans History Project, Library of Congress.
Transcript Excerpts
13:08    I was asleep on February 23, 1969…
14:24    Explosions going on everywhere… And I have no idea what's going on at all… 
15:06    I was crouched in the foxhole with this other guy… I remember trillions of pieces of paper, floating in the air... the weird light because flairs were going off and floating down out of the sky… making crazy shadows. I remember hearing guys yelling, but I didn't know why… The smell of cordite from the explosions. I remember peeking over the edge of the foxhole … but not being able to see anything. And then… suddenly with no warning… there suddenly was in front of me in the foxhole… an explosion. 
16:02    I learned later… that it was a grenade… thrown by a North Vietnamese soldier. But all I knew in that moment was that suddenly, there was a force, hitting me, and going through me that was 10 trillion times bigger than any force I had ever known could exist in the world… A tidal wave of pure evil coming towards you and of not being able to do anything about it… because there's no place to hide and no way to run away… I was penetrated by this evil. My spirit was penetrated. Every pore of my body was penetrated... 
18:34    That was the moment when the realization of what war in combat is really like began to sink in. And I sit here talking to you now some 35 years later with that experience still fundamentally affecting who I am… Still working on healing from that experience… 
19:57    But meanwhile, I was halfway out of my crouch to help lift the wounded guy… I saw something floating through the air... And then it exploded.. a second grenade… thrown into the foxhole… between me and the fella with the wounded eye. I later learned that it had killed that other guy. 
21:15    My wounds were a fractured skull and punctured ear drums and shrapnel holes. Which were the little bits of metal. And… I had a few slightly larger pieces of metal in me that they took out, but mostly just hundreds, thousands of pieces… of tiny little pieces of metal. 
22:14    Finally… somebody yelled that it was okay to get out of the foxhole… A gunship… helicopter… had pushed…. back [the] North Vietnamese soldiers… I crawled out of the foxhole, and there… was that medic who had jumped in to help me… dead on the ground. It's the first dead person I'd ever seen…
23:58    I ended up in an underground bunker, and then a truck, and then a medevac unit, and then a helicopter. And finally, back at the hospital in DaNang. I was there for 10 days. And that's when the shock wore off. And that's when I became afraid. I hadn't known that you could be so afraid. And that was devastating to my sense of self worth, because I had always imagined myself as perfectly brave…
24:29    I was conscious the whole time… in a ward with guys… wounded a lot worse than I was. Although I didn't know at that time how badly I was wounded… There was an ammo dump near the hospital… cooking off… and every time there was an explosion, every person in that hospital ward, whether they were blind or had no legs, whatever it was, they dove to get under the bed. As did I. There was also a ward down the hall of guys who weren't injured physically, but who just lost it mentally. And I thought, "You know, I'm real close to being in that ward, because the level of fear was such. I just didn't know… that fear was such a fundamental part… Fear is–is awful…
25:32    I went from the hospital in DaNang to 10 days in the hospital in Japan and then back to a hospital in Boston… To go so quickly from one world to another was difficult. My mom and dad came to visit me as soon as I arrived at the hospital in Boston… It was wonderful to see them. But I also knew as I hugged them that they had no conception of where I had been… 
26:35    And also nobody in the Marine Corps ever said to me, "You've had a traumatic experience. Let us help you recover and heal from it." …
26:49    I had no experience of help from the military… in healing from the experience of combat. I remember talking with a veteran of the Gulf War who had been wounded and asking him, "After you were wounded and came back, did you have any experience of the military not just healing you physically, but of helping you deal with the trauma of combat and of being wounded?" And he just laughed. I felt very sad that… folk in the military were not growing in… responding to post-traumatic experiences. 
30:12    It took four or five years for me to stop having daymares of sitting in classrooms and imagining the classrooms being blown up… to stop getting in bed at night and worrying that the atomic bomb is gonna drop. But those things did fade over time… It was only after [a] flashback that I began to think about how that experience in Vietnam might have had a fundamental effect on me. 
30:45    I've done… three things… about healing over the years. One… is to… talk about what happened to me. The vast majority of Vietnam vets never talk about their experiences… I found great healing in being able to talk about it… 
31:54    Secondly, I found healing by being with people who understand what it's like… Some Vietnam veterans, but also anybody who has been through a severe trauma… 
33:02    And then thirdly, for me, God. The dynamics of… of faith at the core have also been profoundly healing for me… What happened in Vietnam has affected my faith, and my faith has also been a healing factor.  
35:48    In closing, I would like to say that the reason that I continue to go around with the Veterans Education Project to talk about Vietnam with groups is because… I'm not an utter pacifist. I do think that there may be times in which, in this sad, fallen world, warfare is necessary. But I also believe that we tend, as a nation and as human beings, to go to war too quickly. To fight over things that are not worth the horror and the obscenity and the tragedy of war. I would love to have those who are making the decisions know how awful war is. So that we don't go too quickly. 
---
Sources: 
James Granger Munroe. Recorded 11/20/2002 by Michael Downey and Leslie Perrault, Cathedral High School / Lyman Memorial High School, Springfield, Massachusetts. Veterans History Project, Library of Congress.
Emerging America. (2023). Grades 8-10 Lesson 5: Veterans Today. Reform to Equal Rights: K-12 Disability History Curriculum. Collaborative for Educational Services. 
Relevant Date(s)
1967-2002