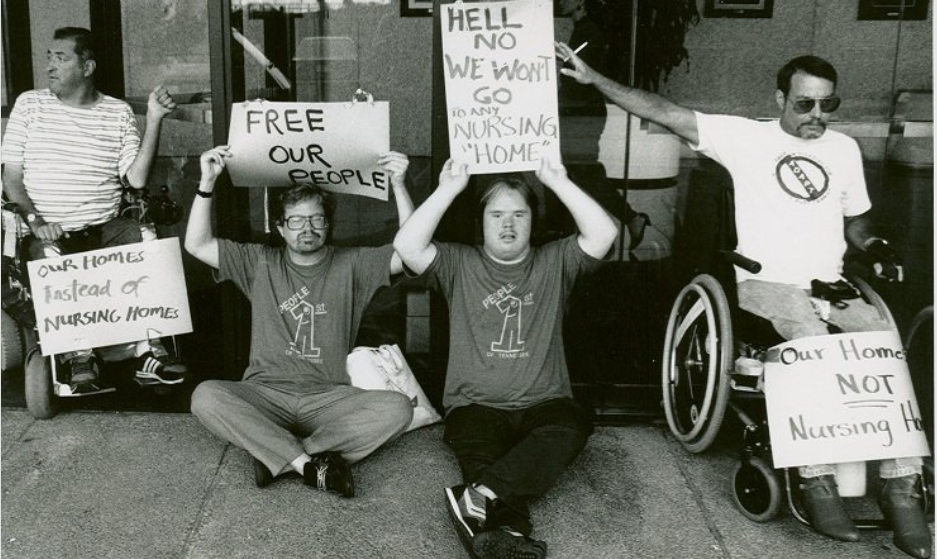 Grades 9-12 Unit Overview: The Long Struggle for Disability Rights
The Unit Overview features a grid of Universal Design for Learning (UDL) strategies and tools employed, standards, and a list of the nearly 60 primary sources used in the unit with thumbnails for each. (Lists of primary sources in lesson plans include hyperlinks to sources as readable text. Lesson plans detail the UDL strategies and tools that they use.) The Unit Overview also lists all secondary sources and background materials for teachers used in the unit.
All the grades 8-10 units begin with a brief introduction to the topic. The unit culminates in a research project on the Disability Rights Movement. Some students can research this topic while others research other civil rights movements of the post-World War II period. In lesson 3, students apply what they have learned about civic action to research, plan, and carry out their own civic engagement project. (This lesson is also used for grades 6-8.) Link to Grades 9-12 Long Struggle for Disability Rights Unit Overview. 
Grades 6-12 - Intro Lesson: Introduction to Disability History 
Introductory lesson slides call students to use words about disability with respect. The slides also include a definition of disability and feature pictures from the Library of Congress that show tools for access. Students generate questions. 
Grades 9-12 - Lesson 1: The Roots of the Disability Rights Movement
Students use the Question Formulation Technique to develop questions for inquiry. Then they hear a presentation using lesson 1 slides on the Disability Rights Movement highlighting disabled advocates across 200 years of American history. 
Grades 9-12 - Lesson 2: Research and Share Disability Rights History
Students research the causes, goals and methods, successes and setbacks of the Disability Rights Movement, using varied collections of sources. Students present research with multiple media options: talk with slides, podcast, video, essay, or poster.
Grades 9-12 - Inclusive Civics Project - Disability Rights  
This lesson offers an extensive–and optional process to guide research, planning, and organizing civic engagement projects that are genuinely inclusive. The lesson also offers resources to work on disability rights projects.